Keep Your Life Jacket On!

On June 27, 2020 Ritchie Nichols and his Dad, Richard, went fishing on South Carolina's Lake Moultrie. Little did they know, their father-and-son getaway would turn into a life threatening ordeal.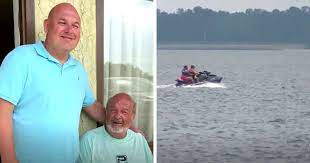 Saved by the Jacket
Ritchie and his father, Richard, were caught in a storm unexpectedly. Having brushed off a plea from his wife earlier to put on a life jacket, Ritchie quickly realized he was in grave danger if he got separated from his life jacket.
Moments later, his dad yelled, "If we don't get out of here, we are in trouble!" As soon as he said that, Ritchie felt water hit his knees and the boat capsized. It was at that moment he remembered his wife's words and quickly grabbed his life jacket. Richard kept his on the entire time.
The father and son were separated in the storm and re-united more than 18 hours later.
Source: nowhabersham.com 
Image source: faithpot.com