Size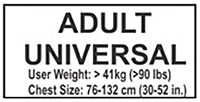 The size of the device is shown on the label, (usually near the back of the neck) stated as a measure of mass (weight). A chest measurement or height may also be indicated.
The label is a general guideline only as body type and size vary greatly.
Most devices are adjustable for GOOD FIT!
Try it on! Try it out in the water!