Device Designs
Design Characteristics
Choosing the right device for your activity will usually require a little thought and research. Consideration of your needs and the different characteristics of a design can be a balancing act. Sometimes a trade-off is necessary. The device that offers greater performance under more extreme conditions may seem 'safer' or 'better' but may be bulkier, uncomfortable or have features that impedes your activity. Sometimes your choice will lean towards the regular protection of a device that can be constantly worn.
The main types of device designs are:
Inherent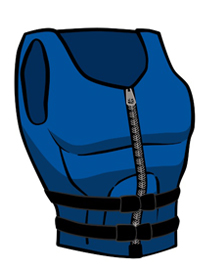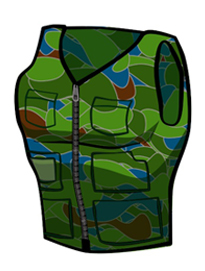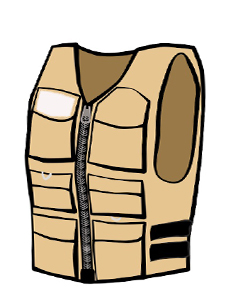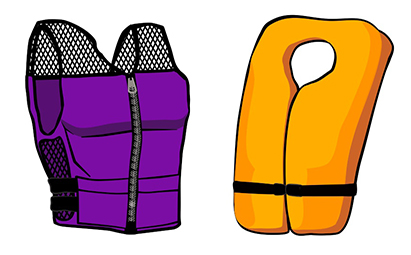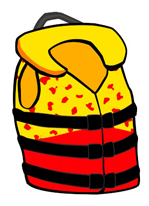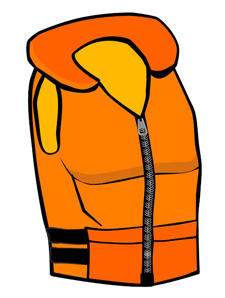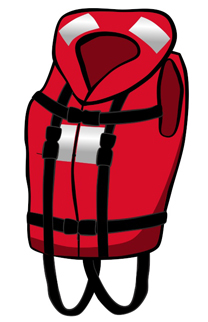 A device made of material (usually foam) that is always buoyant. The foam may be encased in fabric in one or more sections.
Inherent Advantages:
• Floats immediately without any action by the wearer.
• Adjustable fit for children and adults
• Can be constructed in a vest style that fits snugly to the body and allows for range of motion in water sport activity or paddling.
• Offered in a range of performance levels to match the activity and environment of use.
• Accessible price and low maintenance.
• Can help keep wearer warm (both out of and in the water) on cool days.
Inherent Disadvantages:
• Can be too warm on hot days for constant wear unless designed with ventilation - for example: mesh panels or cutouts
• Higher performance levels require more foam in order to meet testing standards for buoyancy and turning, which may make the device bulkier.
Inflatables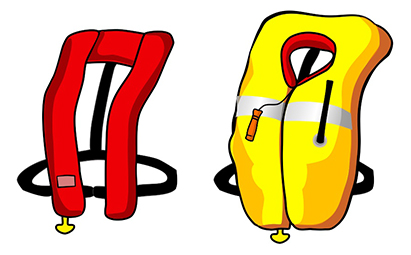 A device that inflates with air (usually produced by a gas canister) to provide flotation. Activation of the inflator occurs automatically when submersed in water or in special circumstances by pulling a manual toggle or by oral inflation through a tube.
Inflatable Advantages:
• Offered in a range of performance levels where high buoyancy and turning characteristics can be achieved without being bulky.
• Can be constructed in a vest style or a yoke that is worn like a scarf around the neck with a chest or waist strap. Before inflation the casing material is folded flat and has a very little bulk.
• More comfortable for constant wear (mobility and ventilation in the un-inflated ready-to-go state).
Inflatable Disadvantages:
• Not suitable for weak or non-swimmers.
• Not for use by children.
• Inflation can startle the wearer. May impede vision and comfort around the face. Sometimes adjustments need to be made by releasing or adding air from the oral inflation tube.
• Not suitable for many water sports activity and on personal watercraft.
• Inflation to full buoyancy may be delayed (particularly in cold temperatures.)
• More maintenance required. (Gas canister needs to be replaced after use, inflator status checked regularly and the device professionally serviced.)
• More expensive device at outset and throughout the lifetime of use.
Hybrid or Multi-Chamber Devices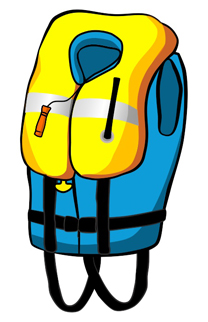 A Hybrid is a device that combines inherent buoyant material (usually foam) with an inflatable chamber.
A Hybrid designation means that the device can perform fully as a buoyancy aid (Level 50) without any additional inflation. After inflation, the device rises to a higher performance level with more buoyancy, freeboard (and possibly turning) depending on the design.
A Multi-Chamber device combines multiple sources for buoyancy. A Multi-Chamber device may have some inherent buoyancy but it depends on the total combined buoyancy of all chambers (the inherent material plus additional inflated chambers) to achieve its designated performance level.
Advantages:
• A Hybrid device floats immediately without any inflation.
• A combination of flotation chambers can adjust to the activity or situation, providing more or less performance when needed.
• Supplemental inflation can be provided through gas canisters or the oral tube, depending on design.
Disadvantages:
• Wearer must read label (including manufacturer's information) to understand the performance characteristics offered by the device. A multi-chamber device (or even a hybrid) may not offer sufficient buoyancy for all wearers until inflated.
Special Purpose
A device that is designed for a specific application or restricted circumstances. Some features may be added, increased or adapted. Some devices may require extra action by the user or special training.
Some examples are:
- devices for use in fire protection, rescue services or by law enforcement personnel.
- extra buoyancy for white water rafting.
- additional visibility equipment for offshore racing.
- inflatable belt pouches
- manual inflation devices
Advantages:
• Certain situations or activity may require special or altered features on a device to make the device possible to wear and to achieve the protection required.
Disadvantages:
• What may be a good design for a specific application may not be good for another situation and in some cases might endanger the wearer.
• May require special action by the user such as:
- secondary donning (eg. belt pack that once inflated needs to be placed over head)

- manual inflation (by pulling on a toggle)
Did You Know?
Inflatables can be more comfortable but require more maintenance and expense.
• Not suitable for some sport activities.

• READ THE LABEL
Did You Know?
- Your activity may require special features and/or accessories for certain conditions.

- READ THE LABEL (INCLUDING MANUFACTURER INFO)