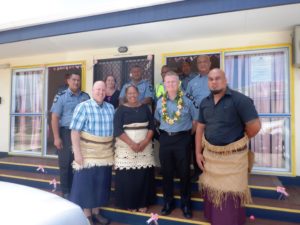 This blog post is part of a series celebrating the great work of our Safe Boating Campaign partners. The Vava'u Volunteer Maritime Response Association (VVMRA) is an incorporated society of the Kingdom of Tonga that assists the Ministry of Police with Search and Rescue Operations. They also handle requests for marine assistance, provide VHF radio watch, and promote water safety education in their community year-round.
While quiet on the home front concerning marine assistance calls, the VVMRA remained busy in 2020. Between a Search and Rescue operation on Toku Island, new officer elections, government agency presentations and more – the VVMRA did not slow down; a trend that will, no doubt, carry the organization into the new year.
In 2021, the VVMRA will put the final touches on some exciting new programs. These will include a Boating and Water Safety Education program for children and youth, promoting new life jacket loaner stations, and participating in Vava'u Boat and Water Safety Awareness Week May 22-29, 2021. An interesting note: the group will also be one of the first to celebrate National Safe Boating Week with the Safe Boating Campaign due to their time zone and location!
When asked what summer safety tips they have for us, the VVMRA answered they enjoy a tropical climate and are a "year-round boating and swimming destination." In order to safely enjoy the water this summer (or anytime), the VVMRA recommends:
• Leaving a detailed trip plan with friends or family staying behind
• Ensuring all safety and communication equipment is in good working condition before departing on your trip
• Knowing who to contact in the event of an emergency.
• Always carrying two forms of waterproof communication when boating
You can visit www.vvmra.org or www.facebook.com/VVMRA to learn more about the VVMRA and how you can support their mission by volunteering, donating, or becoming a partner.