Each year, Safe Boating Campaign partners around the world work together towards one goal of helping to create a safe boating experience for all boaters. Partners serve and educate their local communities by hosting events, safety trainings, and other various outreach programs and efforts. Theresa DaBiere-Craig and her team at the Sean Craig Memorial Fund are some of those special partners who deserve recognition for their outstanding work this summer in reaching their community in upstate New York.
In May, the Sean Craig Memorial Fund's outreach strategy centered around distributing education materials to area boaters. The team helped celebrate Wear Your Life Jacket at Work Day by approaching local businesses and partners, including the Montgomery County Sherriff's Department and Taylor Made LLC. The Sean Craig Memorial Fund team also shared the Safe Boating Campaign template proclamation with their New York State Assembly representative, Robert Smullen, who publicly sponsored a safe boating resolution and shared it with his social media following.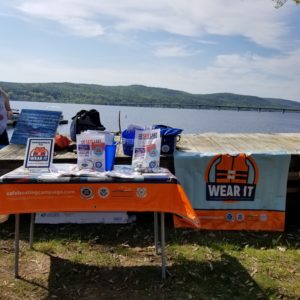 The Sean Craig Memorial Fund teamed up with the crew members of the Great Sacandaga Lake SAFE LAKE Initiative for National Safe Boating Week. They worked on everything from cleaning up a life jacket loaner station to life jacket demonstrations, and from giving away life jackets and other prizes to participating in community speaking engagements. Theresa stresses the importance of fostering like-minded partnerships in boating safety advocacy. The Sean Craig Memorial Fund, Henry D Ross lll Memorial Fund, Watercraft Network, and other Lake Safety Advocates were all instrumental in pulling off their events at the beginning of boating season.
June and July of this year only picked up momentum for the Sean Craig Memorial Fund. The team was excited to present a water safety program at a local summer youth recreation camp. 75 children participated in fun, interactive sessions on how to stay safe while enjoying the water. The children tried on life jackets, learned how to throw throwable devices, and participated in a life jacket relay race where they had to find a life jacket and put it on properly.
In July, the Sean Craig Memorial Fund also partnered with a local tourism entity in order to reach paddlers with safety information. The Safe Paddling Project has been a win-win for water recreation enthusiasts and the tourism agency as it has driven traffic to the center and helped to push out important safety messaging. The team was also able to display NSBC materials at Galway Library near Galway Lake and meet with the Invasive Species Program coordinator to explore a future partnership. Partnership and creative thinking can elevate your boating safety efforts – don't be afraid to think outside of the box.
Learn more about Sean's story and Theresa's family's mission to honor him by visiting https://www.facebook.com/seancraigmemorialfund/. You can also learn more about our Waves of Hope program by visiting https://wavesofhopeboating.org/. Both sites provide a unique and powerful vantage point into the "why" behind boating and water safety education.