The Safe Boating Campaign is proud to partner with Sea Scout Ship Intrepid (41) in Bay Village, Ohio. Youth from the Greater Cleveland area are involved with Sea Scout Ship 41, a proud member of the Sea Scouts, Boy Scouts of America (BSA). In this post, we learned more about local efforts to promote a safe and fun experience on the water.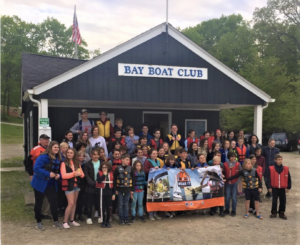 What Sea Scouts and what is Sea Scout Ship 41?
Sea Scouts is a program of Boy Scouts of America (BSA) that promotes better citizenship and improved members' boating skills through instruction and practice in water safety, boating skills, outdoor, social, service experiences, and knowledge of our maritime heritage. Sea Scout units – called "ships" – are established all across the country on oceans, bays, rivers, and lakes – similar to a "pack." Sea Scout Ship 41 is located in Bay Village, Ohio.
What types of programming do you do?
Thanks to support from parents, boating enthusiasts, National Safe Boating Council and US Sailing certified instructors, and the U.S. Coast Guard Auxiliary, we offer a variety of programs for our scouts. During the spring and summer, we have on-water, waterfront and classroom opportunities; and during the fall and winter, we conduct Science, Technology, Engineering, and Mathematics (STEM) projects related to the marine environment.
How does Sea Scout Ship 41 support the Safe Boating Campaign?
We're supported by certified adult instructors from the National Safe Boating Council and US Sailing who partner alongside us to share about boating safety. All of our members, youth and volunteers, wear life jackets all times on the dock, beach, or on a boat. It's also critical that life jackets fit properly. While life jackets have weight guidelines printed in them, we find that because different people have different body shapes, extra care is needed in the selection of a life jacket.
Many of the parents, relatives, and friends of our members are boaters and so there is a "spill-over" effect to others to always wear a life jacket while boating. Our scouts are ambassadors for boating safety.
What have you been up to this summer?
In July our Sea Scout Ship sponsored a "Safety at Sea" event in conjunction with the U.S. Coast Guard Auxiliary, where teams progressed through a number of safety training stations. Our members also serve as ambassadors in promoting boat safety and life jacket wear throughout the summer reminding boaters to always "Wear It."
Please share examples of other Sea Scout Ship 41 efforts that support boating safety.
All our efforts around boating emphasize responsible behavior. For example, we work with 6th through 8th graders through our Maritime Explorer Club 360 to teach on-water boating safety skills taught by certified instructors. Also, all our scouts are encouraged to take a proctored NASBLA safe boating course before they graduate. And, Sea Scout rank advancement requires an understanding of boat safety, including navigation, communication, weather, first aid, and more.
Each spring when the waters of Lake Erie are still too cold for boating, we kick-off our beach program with a "Rain Gutter Regatta," emphasizing life jacket wear and boating safety for our Maritime Explorer Club 360 members. Even on beach clean-up exercises, we wear life jackets to emphasis the importance of wearing a life jacket anytime you are near the water.
Real-life stories of how wearing a life jacket saved lives.
During a storm on Lake Erie, a catamaran about a quarter-mile offshore had flipped. The sailors were unable to right the boat and it was being blown rapidly onto the cliffs. Thankfully, the two college-age sailors abandoned the catamaran and made it shore safely, because they were wearing life jackets.
What are 2-3 safety tips for people looking to enjoy their time on the water?
Always wear a properly fitting life jacket, always boat or paddle with a buddy, and always be aware of the weather conditions around you.