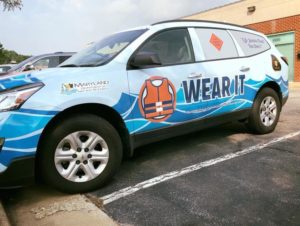 This blog post is part of a series celebrating the great work of our Safe Boating Campaign partners. We interviewed Julie Brown from Maryland Natural Resources Police to learn about their boating and life jacket safety efforts. Thank you to Maryland Natural Resources Police for all that you do! Learn more about boating in Maryland.
---
Q: What does the Natural Resources Police do to ensure safe boating and life jacket safety throughout the state of Maryland?
A: The Maryland Natural Resources Police (MD NRP) has ongoing programs and outreach events to promote life jacket safety throughout the state of Maryland. The Safety Education and Outreach Unit staff, along with the assistance of the MD NRP Reserve Officer volunteers, attend a wide variety of events focusing on life jacket safety and safe boating such as the Annapolis Sail and Power Boat Shows, the Baltimore Boat Show, sport fishing shows, the Special Olympics winter plunges, the MD State fair, County fairs, summer fishing derby's, and much more.  We also devote a tremendous amount of time to National Safe Boating Week, which includes special press conferences as well as a visit from Splash the Water Safety Dog at a Baltimore Orioles game. Also, my State vehicle, a Chevy Traverse, is a traveling water safety message thanks to the National Safe Boating Council and their grant program. MD NRP graciously received a grant to have this vehicle wrapped with the Wear It message and on many occasions, passers-by will honk and wave. The Safety Education and Outreach Unit also sponsors a Water Wise program for groups interested in tailored education programs for young and old.
Q: What are some of the programs that you have in place specifically for youth to ensure they are always wearing life jackets?
A: Our Water Wise program, mainly taught by our volunteer Reserve Officers across the State, reaches children as young as pre-school age all the way up to high school.  These programs are available to the schools, day camps, state parks, day care centers, scout troops, fishing groups, and others. In addition, many summer camps in Maryland offer the boating safety course to their campers, including the Annapolis City Recreation and Parks. As part of the "be cool, wear your life jacket" initiative, kids who get 'caught' wearing their life jacket receive Rita's Italian Ice coupons. Splash: the Water Safety Dog will also be busy this summer at baseball games and parks across Maryland promoting the water safety message to kids and adults.
Q: Do you have any real-life stories of youth who have benefited from your outreach efforts?
A: Recently at Sandy Point State Park, a mom, dad, and daughter were launching their boat. The daughter was wearing a puddle jumper life jacket and I told her how cool she looked in her life jacket. It is especially great to see kids wearing life jackets at launch ramps, not just when they are underway. I pulled the mom aside and complimented her for taking this safety precaution. However, puddle jumper life jackets are not valid on Maryland boats for children under four because they do not have a headrest or grab handle. The mom said she was happy I stopped them, and I even convinced the girl to put on a state-approved life jacket I brought with me that day. The little girl was really happy to get the new life jacket and I even threw in some whistles and a stuffed Splash: The Water Safety Dog.
Q: Since paddle sports (canoeing, kayaking, and paddle boarding) are so popular in Maryland, what programs do you have to ensure paddlers remain safe?
A: MD NRP has many initiatives aimed at keeping paddlers safe and informed about the rules of the road. The Paddle Smart from the Start campaign, a collaboration with the American Canoe Association, aims to make sure paddlers are aware of the following five safety tips to ensure an enjoyable time on the water:
Expect to capsize and swim occasionally when paddling a canoe, kayak, stand up paddleboard (SUP) or raft.
Paddlers are boaters too, and it is critical to understand the rules of the waters you are paddling on.
Being prepared is an essential part of any boating adventure. Make sure you consider these safety tips the next time you head out on the water.
Cold water is extremely dangerous, and many boaters do not realize that cold water immersion can occur in water as warm as 70 degrees Fahrenheit.
Take an on-water course.
Q: What are your top 2-3 safety tips for people who are looking to enjoy time on the water this summer?
A: 1) Take a boating safety course. 2) Always wear a life jacket. 3) Do not drink alcohol while operating a boat.