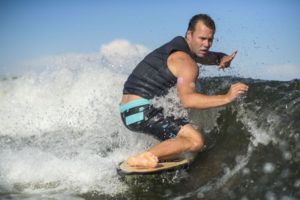 This blog post is part of a series celebrating the remarkable work of our Safe Boating Campaign partners! We interviewed Jeff Moag with the Water Sports Foundation (WSF) to learn about their boating and life jacket safety efforts. WSF is the non-profit extension of the Water Sports Industry Association founded on the premise that "a safer boating culture saves lives and that more should be done to reduce senseless boating casualties."

What is the Water Sports Foundation's philosophy on safe boating and life jacket safety?
The Water Sports Foundation takes a long-term strategy aimed at changing the culture of boating for the better. We're working to create a boating future where wearing life jackets is the norm for everyone, where using an engine cut-off switch is second nature, and where drinking and boating is considered just as wrong as drinking and driving. Together, with the Coast Guard and like-minded organizations such as the National Safe Boating Council, we are making measurable progress.
On a personal level, I enjoy all kinds of boating, but I came up in whitewater kayaking. For kayakers, going on the river without a life jacket and other safety equipment is unthinkable, and the folks I paddle with take pride in having swiftwater rescue training and looking out for one another. That wasn't always the culture of kayaking, but it is today, and I've personally seen it save lives.
What are some of the ways that the foundation promotes boating and life jacket safety?
We partner with boating websites and magazines to bring the safe boating message directly to our target audiences. We have programs aimed at powerboaters, fishermen, kayakers, you name it—and we reach them through the platforms they trust.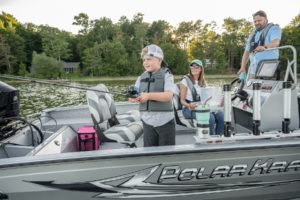 We engage boat dealers to share the safe boating message with customers, and one of our most impactful programs is a campaign on Spanish-language radio that promotes life jacket use. Spanish-speakers are the fastest-growing segment of boaters in America, and we're able to engage them in their own language.
Thank you for your support of the Safe Boating Campaign! What outreach efforts did you do this year?
Where to start? The Water Sports Foundation maintains several safe boating outreach campaigns year-round, with added emphasis during the summer boating season. Our efforts are targeted to boaters of all kinds including a strong emphasis on paddlesports, which accounts for nearly one-third of boating deaths in the U.S. each year.
What programs do you have available for local residents to learn about boating and life jacket safety?
We're an educational outreach organization, so our efforts are focused on sharing the safe-boating message with as many people as possible. At the local level, we refer our audience to other organizations and programs that can provide hands-on training. One way we do this is through our website.
Do you have any real-life stories of how wearing a life jacket has saved your residents? Can you share one?
Yes! One of our outreach programs is called Lessons For Life. It uses stories of real-life boating accidents to share the importance of life jacket wear and other safe boating practices in a very impactful way.
It's hard to choose just one. There was the father and son bucked out of their bass boat at 60 miles per hour who are now strong advocates for using an engine cut-off switch. There is also Sean Danielson, a kayak fisherman who spent three hours in the Chesapeake. He wouldn't be here today if he wasn't wearing his life jacket.
We also just produced a video about a family of nine whose boat capsized last Memorial Day (It's been viewed more than 1.2 million times on YouTube, thanks to some amazing footage captured by the sheriff's deputy who helped rescue the family. That's 1.2 million people who are that much more likely to wear a life jacket the next time they're on the water.)
Can you give us your top tips for people who are looking to enjoy time on the water this fall?
Always wear your life jacket. Use your engine cut-off switch. Don't drink and boat. That's three already, but I'll add one more—take a boater education course tailored to your local waterways and the type of boating you do.
Visit Water Sports Foundation for news, resources, and much more! You can also subscribe and follow WSF on Facebook, Twitter, and Instagram.