This blog post is part of a series celebrating the great work of our Safe Boating Campaign partners. Adam Phillip Begley, inventor of the "Handicaptain," will forever remember when his family bought their cottage on Torch Lake, Michigan.
"My dad would run down the dock with a bunch of gear in his arms, the keys in his teeth, jump in the boat, start it, and drag my brothers and me out onto the lake! Those were the days…," he recalls.
Over time, Adam's father got older and eventually developed an "Elvis-Like" shake in his legs when attempting to step off the dock and onto the jostling boat. His balance eventually became so bad, he could not step the distance of one foot out from the dock. This forced him to stay on shore in a lawn chair and watch everyone else enjoy boating.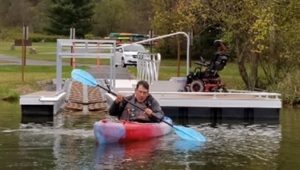 Determined to figure out a simple, yet sturdy, and safe way to get his father on and off of the boat, the "Handicaptain" was born, a self-operable personal transfer system that helps people to get on and off their boats.
We sat down (virtually) with Adam recently to discuss what boating safety and outreach efforts are going to look like in 2021.
Q: Thanks for your support of the Safe Boating Campaign! What outreach efforts do you have planned for this summer/fall?
A: We are in the early planning stages for our calendar of demonstrations this summer. We anticipate doing at least five or six demonstrations at different marinas and waterway access sites. During every demonstration our representative will be wearing a life jacket, and encourage boaters to always wear a life jacket when on the water.
Q: What are some additional ways that your organization promotes boating and life jacket safety?
A: Though we cannot force people to wear life jackets, our company focus is always on safety. Our dock to boat transfer device encourages caution around the water and we always instruct people to put a life jacket on first.
Q: What is your organization's philosophy on safe boating and life jacket safety?
A: We believe our customers are the safest when a life jacket is their first, last, and best line of defense against drowning.
Q: What programs do you have available for local residents to learn about boating and life jacket safety?
A: Many of our upcoming events for the spring, summer, and fall of 2021 will have to do with groups who come to kayak, canoe, and/or paddleboard on our local Cedar River. The events will begin at the Cedar River Waterway Park, in the town of Cedar, Michigan. People will be learning about and operating our Handicaptain Device. In addition to that, owners of local rental outfitters will always require that our customers and participants to wear a life jacket and will educate them on WHY wearing a life jacket is important.
Q: Do you have any real-life stories of how wearing a life jacket has saved your residents? Can you share one?
A: While canoeing, my friend and I came across a young woman trapped and screaming between her submerged canoe and a thick collection of trees and debris, wedged along a bend in the Pine River near Baldwin, Michigan. She was wearing a life jacket, but was so weak she could not get herself free from being pinned. We wedged our canoe amongst some nearby trees, scrambled along a bank, and freed her from her near-death situation by dislodging her canoe. Because she was wearing a life jacket, it helped to save her life while pinned and also when swimming back to shore. Since my friend and I were wearing life jackets, it helped to keep us safe when performing the rescue.
Q: What are your top 2-3 safety tips for people who are looking to enjoy time on the water this summer?
A: WEAR your life jacket; don't just have it nearby, never drink while boating, and always have a swimming or boating buddy who truly understands the buddy system.
Visit Adam and crew over at http://www.handicaptain.com/.