The Safe Boating Campaign is proud to have Current Boating Education as a partner. Current Boating Education utilizes the latest technologies to offer a wide variety of boating education courses across the state of Connecticut. As part of these courses, boaters learn the necessary skills to properly and safely operate a boat.
To support the Safe Boating Campaign, Patrick Kilby, Current Boating Education's owner and lead instructor, incorporates boating safety and life jacket wear messaging into each training. Patrick is also a marine patrol officer for a multi-town municipality organization and an active NSBC instructor. He recently led a training conducted by the American Legion and the Connecticut State Police, called "Youth Week" (Session 19), a week-long training program for high school juniors and seniors who want to pursue a career in law enforcement.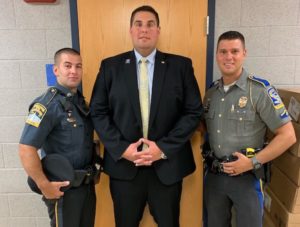 Patrick taught the students about the duties of marine patrol officers and boating enforcement, as well as sharing boating safety with the public. He shared materials from the Safe Boating Campaign, which are available for free to support partners around the world in communicating boating safety and the importance of life jacket wear in their local communities. Participants also learned about federal equipment requirements and basic boat emergency and rescue protocols from a variety of local boating and marine enforcement officers at the state, local and federal level.
"Boating education is extremely important and teaching students about safety and careers in boating law enforcement is a win-win for the boating and law enforcement community," said Patrick Kilby. "The Youth Week is the perfect venue to teach potential cadets about boating safety."
In addition to incorporating boating safety messaging into its training programs, Current Boating Education supports the Safe Boating Campaign during National Safe Boating Week; Ready, Set, Wear It Life Jacket Events, sharing safety messages, and outreach at local events.