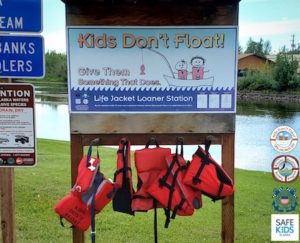 This blog post is part of a series celebrating the great work of our Safe Boating Campaign partners. The Alaska Office of Boating Safety's Kids Don't Float Life Jacket Loaner Board Program started in 1996 in Homer, Alaska and now extends to many far corners of the state. These loaner boards are established at harbors and public boat access areas and display life jackets that can be borrowed at no cost and returned after use. The program is a massive collaborative effort between several state and federal agencies, organizations, and local grass-roots sponsors.
About 30 people have shared with the Alaska Office of Boating Safety that they, or someone they know, was saved during a boating incident due to the Kids Don't Float Loaner Board Program. Incredible! Life jacket loaner boards save lives.
Anyone can become a sponsor for a Kids Don't Float life jacket loaner board. Want to learn more? Visit http://dnr.alaska.gov/parks/boating/kdf/loanboardabout.htm.
Kids Don't Float also offers a model curriculum anyone can use to teach boating safety. The program includes several components that can be combined, based on the unique needs of any group. Several short lessons and activities emphasize cold water survival, including the selection and proper use of life jackets. The pool session offers various experiences in a controlled environment to encourage transformational learning and application of critical thinking. The Kids Don't Float Ambassador Program prepares high school students to teach the Kids Don't Float curriculum and become influential community youth leaders to encourage local safe boating behaviors.
As was the case for many this past spring, the program was impacted by Covid-19 related school closures, also limiting in-person class & pool session availability. The program was able to quickly switch gears and make lessons available online.