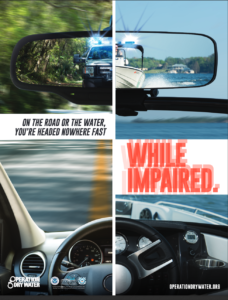 Operation Dry Water and the National Association of State Boating Law Administrators (NASBLA) are reminding boaters throughout the summer boating season to boat sober. Unfortunately, alcohol use by both operators and passengers often becomes part of these activities, causing an increase in the number of injuries, incidents and fatalities on the water.
"Every year we see injuries and deaths that tragically could have been avoided had operators and passengers chosen to boat sober," says Cody Jones, NASBLA Chair. "The Operation Dry Water campaign continues to work with our local, state and federal partners to eliminate boating under the influence and the injuries and deaths caused by it. We urge every boater to keep themselves and others on the water safe by choosing to stay sober while boating and ensuring everyone on board is wearing a life jacket at all times."
Alcohol use continues to be the leading contributing factor in recreational boating fatalities*. Operation Dry Water, the national boating under the influence awareness and enforcement campaign, works year-round to facilitate increased public awareness of the dangers associated with impaired boating and the heightened enforcement of boating under the influence laws.
The 2020 national Operation Dry Water heightened awareness and enforcement three-day weekend will take place July 3-5, 2020. Since the launch of the Operation Dry Water campaign in 2009, law enforcement officers across the nation have removed over 4,000 impaired operators from waterways during the annual three-day weekend. In 2019, 736 agencies from every state and territory took part in the Operation Dry Water weekend.
Environmental "stressors" associated with boating, such as the rocking of the boat, sun, wind and noise, intensify the effects of alcohol- or drug-use on an individual while boating. Boating while impaired increases the chances that a boat operator or passenger could slip, fall overboard or become involved in a serious boating incident. Alcohol consumption also increases the likelihood that individuals will engage in other risky behaviors such as swimming or boating without a life jacket.
Operation Dry Water is a year-round boating under the influence awareness and enforcement campaign with the mission of reducing the number of alcohol and drug-related incidents and fatalities through increased recreational boater awareness and by fostering a stronger and more visible deterrent to alcohol and drug-use on the water. For more information about Operation Dry Water visit http://www.operationdrywater.org.
Operation Dry Water is produced under a grant from the Sport Fish Restoration and Boating Trust Fund, administered by the U.S. Coast Guard and is a product of the National Association of State Boating Law Administrators.