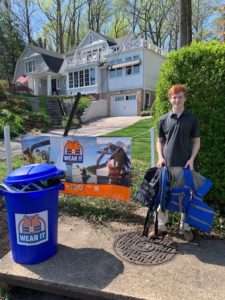 In times of tragedy, we often see the best elements of human nature prevail. This was the case in Maryland, where local teen, Parker Diez, started a campaign to collect donated life jackets. Growing up on the water and boating most of this life, Parker began seeing an increase in tragic boating accidents over the last several years and wanted to do something to encourage safe boating on the Chesapeake Bay.
Between school, part-time jobs and other charitable efforts, Parker quickly began educating himself on boating safety and developed a plan to collect donated life jackets at neighborhood beaches. As part of this effort, he reached out to the National Safe Boating Council (NSBC), who provided resources that are part of the Safe Boating Campaign, Wear It, including a banner for visibility of the life jacket collection bin.
He also wanted to find a local organization he could partner with and who could use the donated life jackets for their boater safety efforts. He contacted Julie Brown, Director of Safety & Outdoor Education at the Maryland Department of Natural Resources, with a proposal to help promote his life jacket collection efforts as well as donate life jackets to the state's boater safety program. Julie and the team at Maryland NDR were inspired by his efforts and partnering with Parker was a no-brainer for the organization.
Parker's efforts come at a tragic time for the state of Maryland as the former Maryland Lt. Governor Kathleen Kennedy Townsend's daughter, Maeve McKean, and her 8-year-old son, Gideon, were lost in a boating accident on the Chesapeake Bay in early April.
Parker's "Wear It" event will take place in partnership with the Maryland DNR on May 15 at Ben Oaks Beach in Maryland, which aligns with National Save Boating Week being held this year from May 16-22. Parker and Maryland DNR will be making a safe boating presentation during the event, and several safe boating agencies will be on hand to answer questions and provide giveaways.
To donate new or used life jackets people can drop off donations at the "Wear It" bin on the curb of 432 Severnside Drive in Severna Park across from Ben Oaks Beach.
If you or someone you know wants to support local boating safety outreach efforts, the National Safe Boating Council's Safe Boating Campaign has a variety of resources. Learn more.